Grandparent's Joy Parchment Poem in Double Picture Frame with Your Picture
Description
Your grandchildren are your pride and joy.  We have created a wonderful poem to describe that special bond that you have formed.  
This double picture frame includes our original poem (Grandparent's Joy) and a frame for your picture.  The poem is printed on beautiful parchment 4x6 inch paper with a 4x6 inch opening for your family picture.
The poem reads: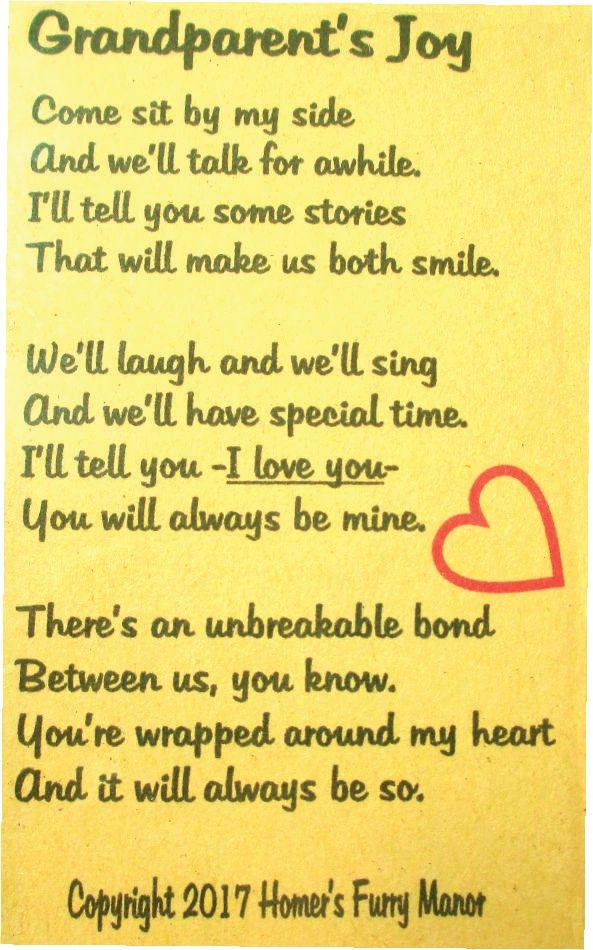 We have 2 choices of frame colors for you:
           Black - Hinged and solid
           Brown - Hinged and solid
We have a variety of these double frames, some hinged and some solid that can be set up vertical or horizontal.  You may receive either version, depending on inventory available.
We also have a variety of pastel and light colored paper stock that we print our Grandparent's Joy poem on.  You can input your preferred color and we will match as closely as possible.  If you do not choose a color, we will generally use our linen stock.
Allow one week for creating your one-of-a-kind grandparent's item and to prepare for shipment.
At check-out, please select correct shipping costs.  For orders of multiple items, the additional items with equal or less shipping costs will ship free.